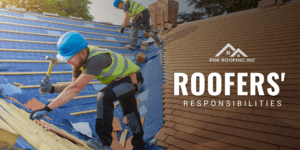 A roofer is a specialized specialist in roof construction, overseeing the entirety of the roofing process in both residential and commercial construction. They examine the construction designs and ensure they execute them according to the specifications. In addition, roofers choose the materials, substrates, and supporting accessories for roof installations. At PDK Roofing Inc., we've seen our roofing professionals work hard and are amazed by their dedication to completing our projects. But what exactly do they do?
A Roofer's To-Do List
Roofers are responsible for new installations, renovations, and roof repair jobs. In addition, they are responsible for repairing roof leaks, installing tile, shingle, and coated roofing systems, and assessing roofs to establish the cause of the problem and the most effective repair methods. Doing roof pre-inspections, which entails seeing a roof before beginning a job to decide the most effective repair or replacement process to employ, is also one of their responsibilities.
Commonly included in the roofer's scope of work is the task of measuring, cutting, and trimming project materials to fit snugly along the roof's edges. In addition, a roofer must be able to modify materials as needed since they are primarily responsible for constructing weatherproof roofs using materials such as asphalt and shingles.
The installation, maintenance, and restoration of new and existing roofs are a huge part of a roofer's work. When necessary, roofers replace worn-out materials with new, sturdy constructions with various materials, including metal, rubber, polymer, asbestos, and tile. All of these have extensive home and commercial applications.
However, most commercial building contractors favor rubber roofs, and rubber roof installation is complex. Some rubber roof restoration projects require roofers to uniformly wipe the whole flat surface of the roof with warm, molten tar. Then, rubber sheeting must be measured and cut around protrusions such as vent pipes, skylights, and heating units.
For works involving shingle, tile, and metal roofing, roofers must typically remove the old materials before spreading down a new layer of tar paper and installing the new materials with staples or nails. In addition, roofing contractors must frequently replace wood that has deteriorated due to exposure to the elements and rot. Plywood and low-quality wood roofs are susceptible to similar concerns and require periodic replacement.
Are you Cut Out to be a Roofer?
Applicants for the position of roofer are required to demonstrate specific qualifications and skills that are necessary for job performance.
Roofers execute the majority of their work on-site. As a result, most roofing jobs require a great deal of physical labor and, depending on the geographic region, the ability to work in harsh weather.
As implied by their job title, roofers must typically work from rooftops. Therefore, they must not be afraid of heights, have decent balance, and possess adequate carpentry abilities.
To succeed as a roofer, one must have extensive roofing knowledge, a commitment to construction safety, an adequate understanding of waterproofing, physical endurance and stamina, excellent communication and interpersonal skills, and customer service abilities.
All these and more form part of a roofer's responsibilities, so if you are considering a career in roofing, we hope this article gives you a glimpse of what the future holds for you.
However, if you're reading this and need help with any of the abovementioned problems or have issues not mentioned in this article, be sure to check the Residential and Commercial services PDK Roofing Inc. offers.