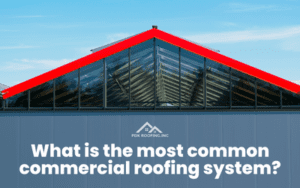 Over the years, innovations in roofing materials have made it possible for more types of commercial roofing systems to become available. This gives developers and contractors more choices, but it might also make it harder to figure out which commercial roof types are best for which buildings and projects.
We've put together this guide to explain the most common types of commercial roofs used today, the pros and cons of some of these systems, and which ones work best in different places, situations, and budgets.
Single-Ply Membrane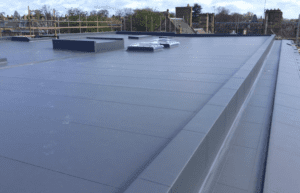 Flat and low-slope roofs are now mostly made up of single-ply membrane roofs. They can be installed with ballast, glue, or mechanically fastened and are well-known for being versatile and easy to install. There are generally two types of Single-Ply roofs, Thermoset and Thermoplastic, so let's look at them briefly.
Thermoset (EPDM): EPDM roofs are made of synthetic rubber and have a lifespan of up to 60 years if properly cared for. They are very resistant to both pollution and sunlight and are resistant to acids and alcohol. However, they are not the "most attractive" material on the market and are easily punctured.
Thermoplastic (TPO, PVC): Thermoplastic Polyolefin (TPO) and Poly Vinyl Chloride (PVC) roofing systems are resistant to extreme weather conditions. UV light, chemicals such as fats and oils, and bacterial development are all slow to harm these roof membranes. They are lightweight, reflective of heat, and resistant to punctures.
Metal Roofing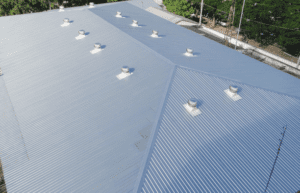 Metal is one of the few commercial roofing materials that work well on all three types of roofs: flat, low slope, and steep slope. Made from many different kinds of metal, such as aluminum, copper, zinc, steel, and tin, it is one of the oldest roofing materials used in commercial buildings today.
Metal roofing can have an appealing, polished appearance, good fire resistance ratings, and be more durable and sustainable than many other roofing choices. A commercial metal roof can last 40-60 years if installed and maintained well.
However, unless they are covered by other materials, such as asphalt, metal roofs can be extremely noisy when exposed to rain, wind, or hail. They are also prone to denting due to hail or falling debris.
Built-Up Roofing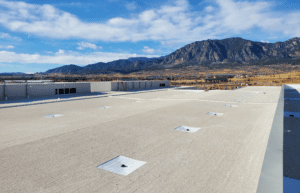 Built-up roofing (BUR), also called "tar and gravel" roofs, is one of the oldest and most tried-and-true systems for commercial roofs. It has been used for over a hundred years, and you can still find it today. BUR systems comprise several layers of asphalt, bitumen, roofing felt, and gravel. These roof systems work best on roofs that are flat or have a low slope.
A commercial built-up roof can last for 40 years if it is installed and maintained well. It has no seams or joints, making it less likely to leak. It also doesn't need much maintenance and protects against UV rays.
However, the different BUR layers take a lot of time and effort to install, which adds to the installation cost. And while leaks are rare, it can be hard to find the source of a leak in a BUR roof, so you might need to do a full resurfacing when one does happen. They also work better in warmer climates than in colder places.
Spray-On Roofing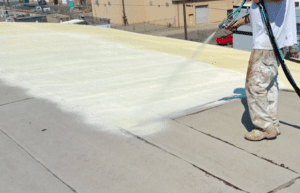 Spray Polyurethane Foam (SPF) is an environmentally friendly roofing alternative for industrial, commercial, and manufacturing buildings. SPF is a substance sprayed as a liquid that expands into a foam that builds a solid surface over an existing roof.
Properly installed and maintained, an SPF roofing system can last up to 50 years in any climate. SPF provides thermal, air, and moisture barriers, expands and contracts with the building to reduce cracks and splitting, and has no joints or seams, eliminating the most vulnerable areas for leaking.
There are other roofing choices out there. But, with so many commercial roofing systems, how do you know which will work best for you? Working with PDK Roofing can be helpful. We know a lot about the roofing products industry, so if you are looking for Commercial Roofing Services in Port St Lucie, FL, we can help you look at your needs and budget to find the best roofing solution.