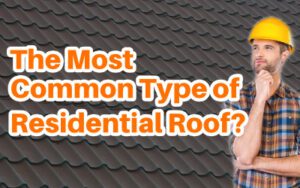 Are you installing a new roof or replacing an old one? Then you know you'll need time to figure out the best choice for the new roof. Since there are so many roofing materials on the market today, start looking for the best one by seeing which one people use most often. Let's take a look at your options!
Asphalt Roofs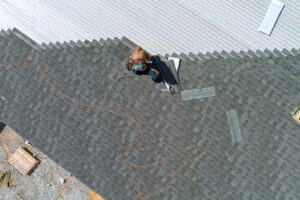 If you take some time to examine the various roofs in your neighborhood, you may notice that they all have shingles in multiple designs, hues, and textures. However, despite their variances, most of them are likely asphalt roofs.
According to HGTV, asphalt shingles are popular because they are economical and easy to install. In fact, they are the most common residential roofing material used in the United States.
Three-tab, Dimensional, and Luxury are the three main types of asphalt shingles that are available. In addition, asphalt shingles are available in a wide range of grades, sometimes lasting anywhere from 15 to 30+ years.
The three-tab variant was once the most popular. However, the popularity of dimensional asphalt shingles has increased to the point where homeowners increasingly favor them. The most cost-effective option is the three-tab, although dimensional shingles can resemble a wood shake roof's appearance to make it appear more distinctive and appealing. The most expensive option is the luxury asphalt shingle, which is bigger and designed to look like slate.
Slate Roofs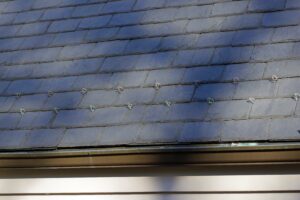 Although you can achieve the same look as a slate roof with luxury asphalt shingles, you might go for the real thing if you have room in your budget.
Slate colors come in black, green, gray, red, and purple tones, have a distinctively elegant aesthetic and go well with Colonial, European style, and French chateau homes. Unfortunately, even though it looks nice and does a great job as a roofing material, slate is not very popular because of how much it costs. It is also heavy and needs additional framing and expert installation. However, slate is a recyclable, fire-resistant, and incredibly long-lasting roofing material that lasts 100 years, so you definitely get your money's worth.
Going from the most popular to the least preferred roofing option, let's take a look at your other roofing options.
Metal Roofs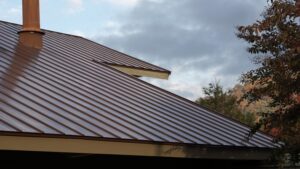 Metal roofs can stand up to all kinds of weather. Metal roofs come in aluminum, copper, stainless steel, and zinc and can be either panels or shingles. They look good, are lightweight, durable, can be recycled, and are suitable for collecting rainwater if ever this is something you want to do.
The fact that they are an environmentally friendly alternative and can be personalized to any color you like is another reason why more people choose this option.
Metal roofing offers a beautiful, durable, and economical choice for homeowners in Port St. Lucie and surrounding areas like Fort Pierce, Stuart, Jensen Beach, Vero Beach, and more. So if you live in the area and are considering this option, you should check PDK Roofing's residential services.
Tile Roofs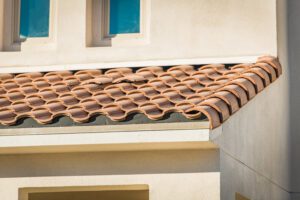 Ceramic tiles are lovely and last a very long time. When fitted, these tiles will overlap, preventing water from seeping into the house. Hence, they are more frequently paired with homes with a Spanish architectural style and are highly suggested for regions with slight seasonal temperature variations. That is why tile is among the most durable and sustainable roofing choices in Port St. Lucie and the surrounding areas.
Its excellent durability, low maintenance, and fantastic insulating properties make it an ideal roofing material for environment-friendly homes. Clay and concrete tiles are also non-combustible and have excellent insulating properties, perfect for ensuring your homes are energy efficient.
Many other roofing materials are available in the market, made from traditional, composite, and new materials, so deciding which one to go with is challenging. Whether it is for a new build or a roof replacement project, feel free to consult with PDK Roofing so we can discuss your options.