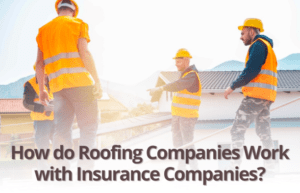 Introduction
At PDK Roofing, we understand that dealing with roof damage can be a stressful experience for homeowners. Whether it's due to severe weather or unexpected accidents, having a damaged roof is never a situation you want to find yourself in. However, you're not alone in this journey.
In this blog, we'll walk you through how roofing companies like PDK Roofing work closely with insurance providers to ensure your home is safeguarded.
Inspection and Assessment
The process of working with insurance companies often begins with a thorough inspection and assessment of your damaged roof. Once you've filed a claim with your insurance company, an adjuster will be dispatched to your property to evaluate the extent of the damage. This is where PDK Roofing steps in.
Our roofing experts play a pivotal role in this process by conducting a detailed inspection alongside the insurance adjuster. We document the extent of the damage, capturing photographs and providing estimates for the required repairs or replacement. This meticulous documentation is crucial to ensuring your insurance claim accurately reflects the necessary work.
Insurance Claim Assistance
Dealing with the paperwork and requirements of insurance claims can be overwhelming for homeowners. This is where PDK Roofing excels. We have extensive experience working with insurance providers and can assist you in filing your claim correctly.
Our team understands the intricate language and requirements of insurance policies, which can often be intricate and perplexing. We'll help you compile all the necessary documentation, ensuring your claim is submitted promptly and accurately. We also act as intermediaries, liaising directly with the insurance company, answering their inquiries, and providing additional information as needed.
Negotiating with Insurance Adjusters
Insurance adjusters may sometimes undervalue the damage or dispute specific aspects of the claim. This is where PDK Roofing's expertise truly shines. We can negotiate with the insurance adjuster on your behalf, ensuring that you receive a fair settlement.
Armed with our comprehensive findings and estimates, grounded in our knowledge of roofing materials and labor costs, we make a compelling case for the necessary repairs or replacement. Our goal is to ensure you get the coverage you deserve.
Quality Roofing Work
Once the insurance claim is approved, PDK Roofing gets to work, restoring your roof to its optimal condition. We leverage our skills and experience to select the right materials, perform the necessary repairs, or execute a full roof replacement if required. You can trust that we adhere to industry standards, guaranteeing that the work is completed professionally and efficiently.
Finalizing the Insurance Claim
After we've completed the roofing work, the insurance company may send for a final inspection to verify that everything has been done correctly. At PDK Roofing, we take charge of coordinating this final inspection and ensure all necessary documentation is provided to the insurance company to efficiently close the claim.
Conclusion
When it comes to dealing with insurance claims for roof damage, you don't have to go it alone. PDK Roofing is here to guide you through the process, ensuring that you receive timely and adequate compensation. Our expertise in assessing, documenting, and negotiating insurance claims allows you to navigate the insurance process with confidence.
So, the next time a storm cloud looms over your home, remember that PDK Roofing is your partner in protecting your most significant investment – your home. For all your roofing needs and assistance with insurance claims, visit our website at PDK Roofing. Our team is ready to assist you every step of the way.